Round 1, Match #2: Zelina Vega & Aleister Black vs. Peyton Royce & Shawn Spears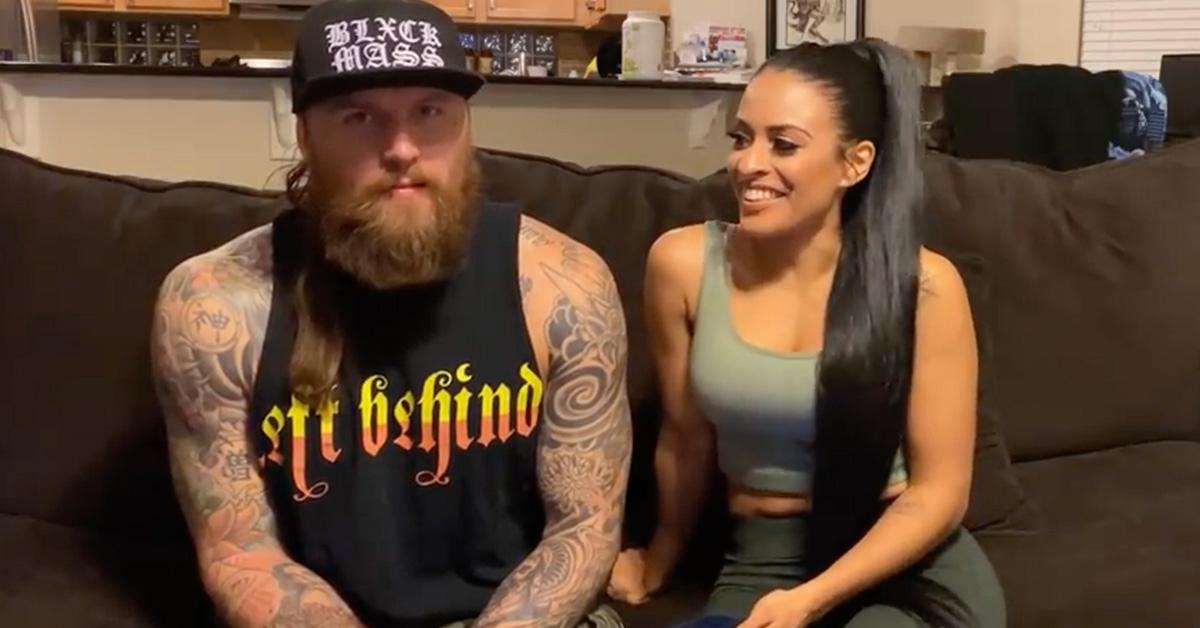 vs.
Written by Cult Icon
repeated knocking on door. It opens-
Cult: You're late Skitz.
Skitz: Sorry homie! Got caught up having some Italian.
Cult: I told you I was making food.
Skitz: Who said anything about food?
Cult: Oh for fucks sake.
Skitz: Come on Cult; you know I have needs.
Cult: You're going to make me regret this aren't you? I could've just spent a quiet night playing Uncharted 2 and watching the new Mighty Ducks series.
Skitz: You know you love me homie! Plus we have to watch this. It's mizfan's big thing after all.
Cult: Is it that or is it because you hope to see the women having a catfight?
Skitz: Does it have to be mutually exclusive? Now turn the TV on already. If this gets done quick Italian may still be on the menu later.
Cult: Did you just leave the poor girl at your house?
Skitz: Did Eddie Furlong do drugs today? Put the damn show on!
TV clicks on
Cinderella Man: IT'S MARCH AND YOU KNOW WHAT THAT MEANS! WE ARE COMING TO YOU LIVE FROM THE DOA ISLAND FOR ANOTHER EDITION OF MIZFAN'S ANNUAL DOA TOURNAMENT! THIS YEAR THE THEME IS LOVE AND WAR AND TODAY WE HAVE AN ENTICING FIRST ROUND BATTLE AS PEYTON ROYCE AND SHAWN SPEARS BATTLE ALLISTAR BLACK AND ZELINA VEGA! HELLO EVERYONE; I AM THE ANNOUNCER FROM THE CINEMATIC TOUR DE FORCE CINDERELLA MAN, JOINED THIS YEAR BY THE ONE AND ONLY MIZFAN AND THE ICON, THE HALL OF FAMER, THE FRANCHISE! TELL THEM WHO IT IS SCHIAVONE!
Tony Schiavone: IT'S STIIIIIIIIIIIIIIIIIIIIIIIIIIIIIIIIIIINNNNNNNNNNNNN NNNNNNNNNGGGGGGGGGGGGGGGGGGGGGGGGGGG!!!!!!!!!!!!!! !!!!!!!!!!!!!!!!!!!!!!!!!!!!!!!!!!
Skitz: I can't believe you turned this gig down. How much did mizfan offer you again?
Cult: A year supply of Sunkist, the 5 hour cut of Heaven's Gate and him praising Kenny Omega for three straight minutes. Honestly I just needed the year off Skitz. Don't want to get burned out and all. You should know; one minute you're writing nonstop and the next you've disappeared like an ECW clip on Peacock.
Skitz: Fair point. At least you turning it down got mizfan to do commentary with Sting. Must be eating him alive.
Cult: He told me he offered the spot to Luger and Luger instead recommended Sting because, and I quote "The Stinger is better than me mizfan." I believe he also said WCW was right for doing the Steamboat-Flair series over giving Luger the title.
Skitz: What a betrayal huh?
Cult: That's the wrestling business for you.
Skitz: So what's this matchup here?
Cult: Peyton Royce and Shawn Spears vs. Allistair Black and Thea Trinidad. Although mizfan is calling her Zelina Vega for this, despite my numerous online protests.
Skitz: And this is a matchup why?
Cult: Apparently it's a "Love Conquers All" theme or whatever. Very theatrical cut of Brazil if you ask me. At least it'll be quick. Word through the grapevine is that Thea has developed super speed through something called "the Twitch Force."
Skitz: The Twitch Force?
Cult: Yeah it's from all that streaming she's been doing. Apparently it turned her into a superhero. Who knows; probably just a rumor started by some dude who watched the Snyder Cut too many times.
Skitz: That was pretty good actually!
Cult: Yeah that whole thing had me like Jeff Goldblum in Jurassic Park. We spent so much thinking about how it would suck that we never stopped to think that it could be good!
Skitz: True that homie.
Cult: Don't say that.
Skitz: You love it! I'm getting a soda from the fridge. You want anything?
Cult: Nah I'm good.
Skitz: You're yawning already? You better not fall asleep Cult.
Cult: I'm not going to fall asleep!
falls asleep
Skitz: CULT!
Cult: I'm awake! I'm awake!
Skitz: That's why you look like Nikki Bella just walked in the room.
Cult: Oh haha. It was only for a second. Not like I missed...wait what's going on?
Skitz: Alistair Black isn't there. Apparently he was dealing with a case of minor injuries.
Cult: What kind of minor injuries?
Skitz: The kind that makes Bruce and Vince keep you out for nearly a year as a precaution. I mean what else could it be? We both know WWE doesn't waste talented people!
Cult: Can't argue with that logic. So what happens now?
Skitz: I guess Thea has to forfeit and Peyton and Spears win.
Cult: Win by forfeit? Can't a team only win after the other has been wiped off this mortal coil?
Skitz: That's what I thought.
Cult: Wow; this is lazier than when I'm booking this shit.
Skitz: And that's pretty lazy. Well I guess Thea has something to say at least...wait...wait...she's brought in another team to replace hers?
Cult: Wow. I guess that's one way for Sombra to make his return...wait what's that sound?
Skitz: That sounds like…
Cult: OH NO!
Cult: NOT AGAIN!
Skitz: I wonder if he's going to say…
Steiner: GIMME A FOOKIN MICK!
Skitz: There it is.
Cult: Why is this guy always on this show?! Like this joke is prehistoric at this point. What's next; Mulder and Scully come out?
Skitz: Calm your tits Cult. We're getting a Steiner promo. You can't go wrong with a Steiner promo.
Cult: You watch Skitz; he's going to say something we barely understand, introduce a lame surprise and then sing a song terribly. Just watch.
Steiner: YA KNOW THEY SEY OIL DO AH'S ARE CREATDED EQUIL...BUT DEN YA LICK ET ONE WITTOTT MEH, THE BIG, BAD, BOOTEH DADDEH, END DEN ONE WIT MEH, END YA KNEW DAT'S KNOT TRU!
Cult: What did I tell you?
Skitz: Don't make me throw this soda bottle at you Cult!
Steiner: SO WIN THEA, SWEET ZELINA, COLLED UP DA GENETIC FREK, END THIN CREAMED SCREAMED BOOM SHAKALA, HOLLA AT DA MUNE, THUR WUZ NO WEIGH I WUZ GONNA MIST DIS! HOLLA IF YAH HEAR MEH!
Chorus: HOLLA!
Cult: Where does he find these people year after year to say holla? WHY DO I KEEP RELIVING THIS NIGHTMARE?! OWW!
Skitz: I warned you!
Steiner: SO WUNTZ DA DEAL WAS SINGED SIGNED, ME EN THEA NEDED TA FIND A SOOTIBLE PARTNA FOR FREAKZILLA! WE SERCHED HIGH EN LO, HOT 'N COLD, THROUGH EVEREH SINGLE HOLE, UNTEEL WEH FUND DA PERFICT FREAK! DIS IS A WOMIN WHO DUZNT NED TO WEIGHT FUR DA EARF TO ROTATE ONNA 45 DEGRE AXES, SO DA STAIRS CAN SUCK DA SKYE…
Cult: Did he just say suck the sky?
Steiner: ...END CREMATE EN EQUIKNOX, SO DEY CEN C DA BIG DIPPAH! AHM DA BIG DIPPUR! END JEST LICK DA ONLEH TING AH CARE ABOOT IN DIS WURLD ARE MAH FREAKS AND MAH PEAKS, DIS WOMUN ONLEH CURES ABOT HUR WIMPS AND HUR SIMPS!
Cult:...NO FUCKING WAY!
Steiner: SO DIS GOES TO OIL MAH FREAKS OUT DER, BIG POPPA PUMP IS TEMING WIT MAKI IDO! HOLLA, IF YAH HEAR MEH!
Chorus: Holla!
Skitz: Yup; totally an underwhelming turn of events there Cult.
Cult: I'll give Steiner this; I was fully expecting Penelope and the Kipper there and instead he gives us Maki Itoh! This might actually be good now...and I spoke too soon.
Skitz: Hey it's Shawn Michaels. What is Shawn Michaels doing here again?
Cult: Remember when Triple H arrived last year and tried to ruin everything? I'd bet HBK is going to do the same thing and then wonder why he's so violent.
Skitz: Lay off the Heartbreak Kid Cult. He's one of the best. I'm sure he'll have something interesting to say.
twenty minutes later
Skitz: I now understand why people think Bret was better.
Cult: I think I'd rather watch Johnny Gargano and Tomasso Ciampa remake One Final Beat then this horseshit.
Skitz: Wrap this up guys! I want to see Steiner suplex Shawn Spears already.
Cult: This feels like Steiner and Michaels are either going to either bore everyone to death going back and forth or something stupid like Shawn superkicking the ground and destroying the world is going to happen.
Skitz: How can a superkick destroy the world?
Cult: This is DOA Skitz. You know how many years I've been writing stuff like this? Something crazy like that always happens. You watch.
Skitz: I know you're being all grumpy old Cult here but I'm telling you there's no way that…
Cinderella Man: MY GOD SHAWN MICHAELS HAS DONE THE UNTHINKABLE! HE HAS SUPERKICKED THE EARTH SO HARD THAT IT IS COMBUSTING BEFORE US! WE ARE ALL ABOUT TO DIE! ON BEHALF OF PLANET EARTH, I AM THE CINDERELLA MAN ANNOUNCER SIGNING OFF AS THE WORLD GOES EX
announces dissolve onscreen
Cult: I should've bet a soda on that.
Skitz: Wow. Good call Cult. Too bad we're going to be dead in above five minutes and can't celebrate you being right.
Cult: Eh it's probably more like ten. These apocalypses like to take their time.
Skitz: Just like me with the lasses every evening.
Cult: You know Skitz it's a good thing the world is ending; otherwise we might have to have a talk about your clear case of sex addiction.
Skitz: Hey if you're going to have an addiction, it may as well be why is everything on the TV going in slow motion?
Cult: I'll top your question with another question; why do I hear the sound of The Flash's theme from the Snyder Cut playing?
Skitz: Maybe, and I'm just spitballing here Cult, but it may have to do with Thea Trinidad running really fast?
Cult: Of course! It's that fucking Twitch Force thing Skitz. I told you she had superpowers.
Skitz: Good call. It's almost like you knew what was happening ahead of time.
Cult: What are you implying there?
Skitz: Nothing homie! Now quiet down; I want to watch Thea put the world back together.
Cult and Skitz spend two minutes watching Thea put the world back together with superspeed
Skitz: Well that was rad.
Cult: Pretty good; I give it a 9.6
Skitz: Would've been a 10 if it was in my bedroom.
Cult: DUDE!
Skitz: I know; I do need help.
Cinderella Man: INCREDIBLE! WITH THE POWER OF THE SPEED OF LIGHT, THEA TRINIDAD HAS SAVED US ALL FROM IMPENDING DOOM!
Mizfan: Absolutely incredible.
Sting: The Twitch Force is the real deal guys. THE TWITCH FORCE gives me a real dry mouth. THE TWITCH FORCE puts chills right up and down my spine. THE TWITCH FORCE gives me goosebumps ALL OVER MY BODY!
Skitz: AAAAAAAND mizfan is finally trying to kill Sting. What was the over/under I had on that?
Cult: A half an hour?
Skitz: Shit; missed it by ten minutes. Now I do owe you a soda. Shit he's beating Sting with the bat.
Cult: I always knew this day would come. Sad really. And look at Michaels, looking at all of this and about to break down over the HOLY SHIT DID MAKI ITOH JUST BEHEAD SHAWN MICHAELS WITH A SUPERKICK?!
Skitz: Cult, Maki Itoh, in fact, just beheaded Shawn Michaels with a superkick!
Maki Itoh: Why am I so violent? WHY ARE YOU SO DEAD MOTHERFUCKER?!
Cult and Skitz give standing ovation
Skitz: Incredible.
Cult: MAGNIFICENT! MAAAAGNIFICENT!
Skitz: Did you just do the Collector gimmick from Infinity War?
Cult: The situation called for it. So what happens now?
Skitz: Well for some reason it looks like Scott Steiner is leaving Maki Itoh to fight Spears and Peyton by herself. I mean sure; Spears is the simpiest of simps so Itoh should be able to take him, but I was kind hoping for some Steinerplexes...then again Steiner at the piano ain't so bad.
Cult: Oh fuck. What is he going to sing now?
piano plays for a good minute
Cult: Well this is actually pretty serene for Scotty. I'm not sure how it helps Maki at all but who am I too…
Steiner: NOW AH'VE HERD THERS A SECRIT CURD!
Cult: And there he goes.
Steiner: DAT DAVAD PLEIGHED END IT PLEZED DA LURD, BIT YOU DUNT REALLY CURE FER MUSIC DO YA?! DEW YA?! IT GOEZ LICK DIS, DA FORT, DA FIF, DA MINER FOILS, DA MAJER LIFTS! DA BAFFLED KIN COMPOSIN, HOLLA HOLLA! HOLLA HOLLA! HOLLA HOLLA! HOLLA HOLLA! HOLLA HA, HA HA HA...LLA!
Cult: I feel like Pen should be here to ask if we're on drugs.
phone rings
Cult: Hello?
Pen: Are you on drugs?
Cult: AH!
hangs up phone
Steiner: YER FATE WUZ STRING BUT YA NEDDED PROOF, YA SAWED DA FREAK BATHIN ON DA WOOF! HER BOOTY END DA MOONLIT OVAH THROUGH YA! SHE TIED MEH TO A KITCHIN CHAH! WENT BOOM SHAKALAKA, BROK DA CHUR! END FROMMAH LIPS SHE DREW DA HOLLA HOLLA! HOLLA HOLLA! HOLLA HOLLA! HOLLA HOLLA! HOLLA HA, HA HA HA...LLA!
Cult: Dude look at Maki Itoh go!
Skitz: It's like the song is giving her super powers or something. Welp, Shawn Spears is dead.
Cult: Pour one out!
they pour one out
Steiner: WILL BEBE AH'VE BEN HUR BEFOR, AH KNEW DIS ROAM END AH'VE WORKED DA FLURE! AH USED TA LIVE ALON BIFOR AH NEW YA! END AH'VE SCENE YUR FLEG ON DA MARBAH MARK, BUT LUV IS KNOT SUM VICKY MERCH! ET'S A CULD END IT'S A BROKIN HOLLA HOLLA! HOLLA HOLLA! HOLLA HOLLA! HOLLA HOLLA! HOLLA HA, HA HA HA...LLA! DER WUZ A THYME YUD LETME NO WUT'S REILLY GOIN ON BELLOW! BIT NOW YA NEVAH SHOWIT TA MEH, DO YA?! DO YA?! REMEMBAH WIN A MOVED IN YA! I WAS CUMMIN END YOU WERE CUMMIN TWO! END EVEREH BRITH WE DREW WUSS HOLLA HOLLA! HOLLA HOLLA! HOLLA HOLLA! HOLLA HOLLA! HOLLA HA, HA HA HA...LLA!
Cult: Skitz are you crying?
Skitz: Yes...with laughter over Maki Itoh beating down Peyton Royce?
Cult: Seriously. Is she quoting Spike from Buffy?
Maki Itoh: BABY LIKE HER SUPPER?! BABY LIKE HER SUPPER?! BABY LIKE HER SUPPER?!
Cult: My Grodd; Maki Itoh allowed me to enjoy something involving Joss Whedon again.
Skitz: Now if only she'd return my phone calls.
Cult: Seriously?
Skitz: A man can dream!
Steiner: WILL MEBE THUR'S A GED ABUV, BUT OIL AH EVAH LURNED FRO LUV, WUZ HOW TA SHUT SOMEWUN WHO OUT DREW YA! ET'S KNOTTA CRIM THAT YA HURD ET NAT! ET'S NOT SCOTTEH PILGRIM WHO CLEMS DA LITE! ET'S A CULD END IT'S A BROKIN HOLLA HOLLA! HOLLA HOLLA! HOLLA HOLLA! HOLLA HOLLA! HOLLA HA, HA HA HA...LLA! HOLLA HOLLA! HA HA HOLLA! HOLLA HOLLA! HOLLA HA, HA HA HA...LLA!
Chorus: HOLLA!
Cinderella Man: INCREDIBLE! MAKI ITOH HAS PUMMELED PEYTON ROYCE INTO A STICKY SPACE TO THE SOUND OF SCOTT STEINER'S COVER OF "HALLELUJAH" called "HOLLA HOLLA!" ALL WHILE MIZFAN HAS BEATEN STING TO DEATH WITH A BASEBALL BAT! TRULY THIS HAS BEEN A DOA UNLIKE ANY OTHER!
Skitz: You do have to admit Cult; this wasn't boring.
Cult: That's true. Maybe I will make a comeback next year after all.
Skitz: That be sweet!
Cinderella Man: WE ARE OUT OF TIME SPORTS FANS! ON BEHALF OF MIZFAN AND THE LIFELESS CORPSE OF STING, THIS IS THE CINDERELLA MAN ANNOUNCER SIGNING OFF FROM DOA…
TV turns off
Unknown Voice: I told you Hunter. I told you Shawn would fail.
Triple H: Yes Regal. You did.
Road Dogg: Uh, excuse me Hunter? I just got the ratings report in and…
Triple H: Can you not see I'm speaking here Road Dogg?
Road Dogg: Sorry Hunter. I just thought you'd like to…
Triple H: Don't you have some failed capital riot to go to? Now unless you're telling me Stephanie is divorcing me and giving me WCW GET THE HELL OUT OF MY FACE!
Regal: Master, now that the DOA tournament is stronger than ever, how will you retrieve your revenge?
Triple H: This is a marathon, not a sprint Regal. I will stride across the bones of Jake Roberts and mizfan and bask in the glory of the King of Kings! And all of wrestling SHALL BE MINE!
takes drink of water, spits it out
Triple H: Ready the armada; WE SHALL USE THE OLD WAYS!
Road Dogg:...so it turns out AEW beat us in the demo again.
Triple H: GET YOUR QANON ASS OUT OF MY SIGHT!
Cult wakes up
Skitz: Cult! I told you not to fall asleep.
Cult: I didn't fall asleep! Scott Steiner sang "Hallelujah", Maki Itoh beheaded Shawn Michaels, castrated Shawn Spears and grinded Peyton Royce into a sticky paste and then Triple H did his best Darkseid impression.
long pause
Skitz: I mean the first parts definitely happened. Not sure about the last part though.
Cult: Fuck; I've got to lay off the Snyder Cut.
Skitz: That you do. So does this mean Maki Itoh and Scott Steiner move on now?
Cult: Fuck it I know; that's mizfan's problem!
Skitz: Good point. Alright; time to go re-enact that scene from Novecento with my Italian friend.
Cult: Which scene?
Skitz: I'm thinking the one where De Nero and Gerard Depredieu get jerked at the same time, only I'm both De Nero and Gerard in this scenario.
Cult: You're a weird guy Skitz; weird guy.
Skitz: Hey; this is why you should've done DOA instead of watching it.
Cult: Too true! Later Skitz!
Skitz: Later homie!
Skitties wittem Titties exists stage right
WINNERS: Zelina- Um, Thea Trinidad & Aleister Black! I Guess!