What's up guys, Kingzak is back in action with another chapter of the AEW vs NXT countdown. We are approaching the midway point of the series as today we hit 75/151, admittedly I wouldn't count it since we had about 50 one hit wonders, and things only get longer as we go on so realistically we are probably about 30% through this. But either way its one again time to see what is up, and today is an exciting one, we are climbing out of the lower card and into the midcard today. So without further ado, let's dive in.
---
#77
AEW #45
Sammy Guevara
Revolution 2020: lost to Darby Allin 3.5 Stars
Double or Nothing: Stadium Stampede 4 Stars
All Out 2020: lost to Matt Hardy 0.5 Stars
Full Gear 2020: lost to Matt Hardy 3 Stars
Winter is Coming: Diamond battle Royal 2.75 Stars
Total Stars: 13.75 Stars
Win-Loss 0-5
Final Score: 2.625 Stars
This one surprised me a bit, I honestly thought Guevara had done a bit more than this; honestly all aspects of his score kinda befuddle me a little. The most immediate being the Win-Loss record, I'm genuinely surprised that he hasn't managed a big match win yet. The All Out debacle does cause a lot of issue for his score, without it he would have a very respectable 3.2125 stars, which would boost him about 20 spots up the rankings.
I'd also argue his Revolution match with Darby was a bit overrated, it was fine but clocking in at five-ish minutes would make this one of the best five minute matches in history. But then the rating is made of several opinions, so maybe it is that good. The rest of the matches I discussed near the end of the last part in Matt Hardy's section, so I don't feel a big need to go back over it but I will say Guevara did great in his cinematic matches.
I'm hoping that things pick up for Sammy in the future, at least let him get a PPV win under his belt. I don't think that will be happening in the near future considering that he's somewhat on the back burners as the current Jericho/MJF story plays out.
#76
AEW #44
John Silver
All Out 2020: with Alex Reynolds lost to Private Party 2.75 Stars
Full Gear 2020: lost to Orange Cassidy 3.25 Stars
Winter is Coming: Diamond battle Royal 2.75 Stars
Total Stars: 8.75 Stars
Win-Loss: 0-3
Final Score: 2.84166666 Stars
Another of The Dark Order's lot, that explains the win-loss ratio. I don't have much to say on Silver, however I do think I have seen some positive things said about him on Twitter and given the fact that he does have a singles match, maybe someone else sees an upside in him too. All the best to him.
Side note: Just found out that I have written about him before, albeit without knowing. Silver was a one-time jobber for WWE, competing against Ryback on a PPV, meaning that for my PPV-Star of the decade series, I actually wrote about him. This was before he had made any notable appearance for AEW, so I just dismissed him. How time makes fools of us all.
Extra Side Note: Whoever formatted his Wikipedia page should be shot. Just look at this absolute wall of text.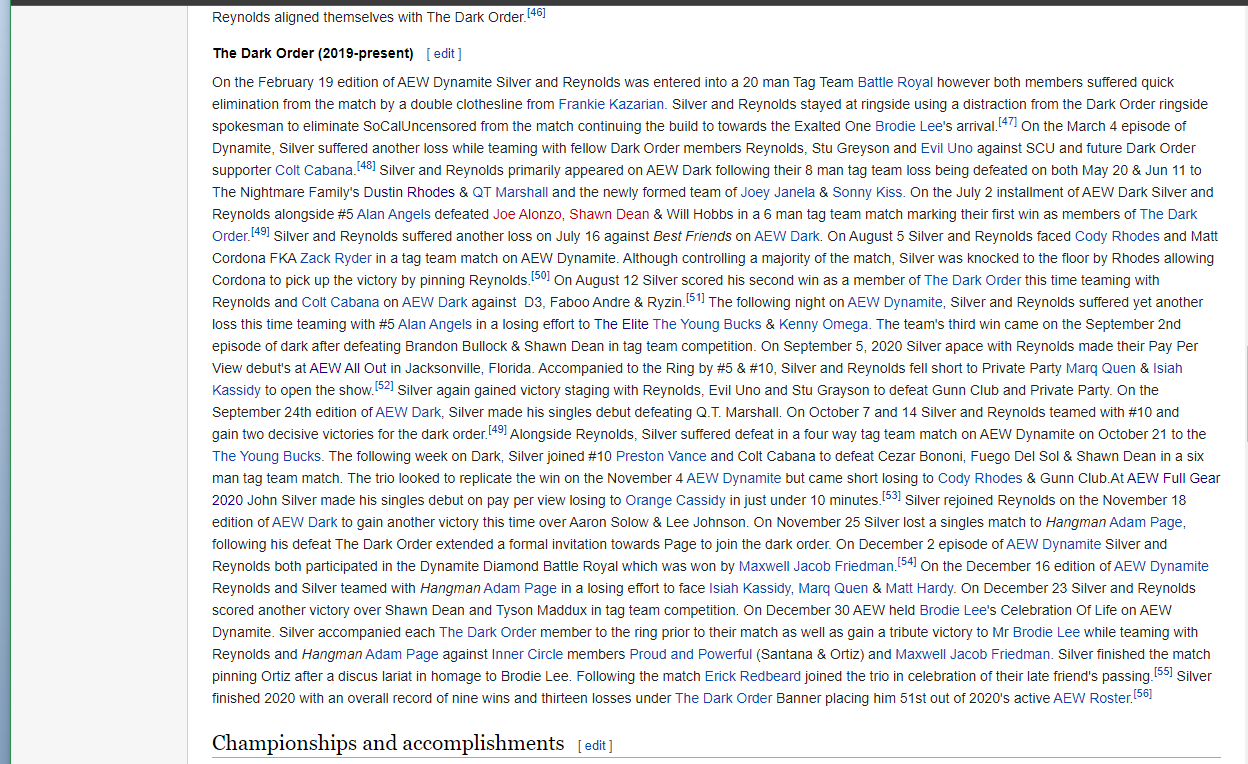 #75
AEW #43
Sonny Kiss
Fight for the Fallen 2020: lost to Cody Rhodes 3 Stars
All Out 2020: Casino Battle Royal 3 Stars
Total Stars: 6
Win-Loss 0-2
Final Score: 2.95 Stars
It's nice to see someone offer up something more colourful than the usually drab wrestling aesthetic, it's a lot of black with the occasional red or blue mixed in, Sonny stands out a lot compared to other wrestlers, you look through a list of pictures and he jumps off the page.
Sonny didn't have a great year, the Cody loss being the most prominent spot; this would be followed up by a squash loss to Kenny Omega a few months later. Not a great year for them and I honestly like them, would love to see Kiss involved in more for AEW in the future, I'm hopeful for an actual storyline soon.
#74
NXT #32
Dexter Lumis
Great American Bash Week 1: beat Roderick Strong 2.75 Stars
Takeover Wargames 2020: beat Cameron Grimes 3 Stars
Total Stars: 5.75 Stars
Win-Loss 2-0
Final Score: 2.975 Stars
If you need proof of the wins and losses affecting scores, look at Sonny and Dexter's total, they would be the other way round if we discounted wins and losses. Onto Lumis and I think he had a pretty good 2020, he was prominent all year and aside from a couple months of injury in the summer he's been in storylines the whole time. He started out helping Velveteen Dream against the Undisputed Era, before going into his own feud with Strong, and then finishing up with a strap match at Great American Bash.
He was initially set to be a part of the North American title ladder match at Takeover 30, but injury stopped him, and upon return he found himself targeted by Cameron Grimes though that quickly turned around to Lumis pursuing Grimes. The two had a Haunted House match at Halloween Havoc but it was a cinematic match and unlike others, this one was hard to pin point coming across more as a segment than match (same problem with the Firefly Funhouse match) and ultimately with no one putting stars to it, it is unable to be included on the list. The two's feud carried on into WarGames for another strap match.
At the moment Lumis is going for the title that he missed an opportunity for, stalking Johnny Gargano and the North American title. I like Lumis as a character, it's something unique for modern wrestling but I remain sceptical about him challenging for the title, the more supernatural superstars going for titles has always felt weird to me. I doubt that he takes the title from Gargano but I've got mixed feelings on the whole situation, the story's been entertaining though.
#73
AEW #42
Ricky Starks
All Out 2020: Casino Battle Royal 3 Stars
Winter is Coming: With Will Hobbs lost to Cody Rhodes and Darby Allin 3.25 Stars
Total Stars: 6.25 Stars
Win-Loss 0-2
Final Score: 3.075 Stars
Also
#72
AEW #41
Will Hobbs
All Out 2020: Casino Battle Royal 3 Stars
Winter is Coming: With Ricky Starks lost to Cody Rhodes and Darby Allin 3.25 Stars
Total Stars: 6.25 Stars
Win-Loss 0-2
Final Score: 3.075 Stars
Team Taz making their presence known on the list, unfortunately at the lower end of the list. The two pretty much had the same year as far as scoring is concerned, the only difference being that Hobbs entered the Battle Royal earlier and lasted longer than Starks, giving him the better spot on the list.
I remember seeing a fair amount of positivity regarding Hobbs when he made his first appearance, though that turned out to just be Social Media excitement as I don't think I've seen any of that potential since. Meanwhile Starks just appeared at some point and I honestly can't think of anything I've seen from him outside these two matches.
#71
AEW #40
Joey Janela
All Out 2019: lost to Jimmy Havoc vs Darby Allin 3.5 Stars
Full Gear: lost to Shawn Spears 2.25 Stars
Double or Nothing 2020: Casino Ladder match 3.25 Stars
Fyter Fest Week 2: lost to Lance Archer 2.75 Stars
All Out 2020: beat Serpentico 2.5 stars
Winter is Coming: Diamond battle royal 2.75 Stars
Total Stars: 17 stars
Win-Loss: 1-5
Final Score: 2.7583333 Stars
Honestly I was a bit surprised by the placement for this one; Janela has had a solid run in AEW and has competed at six of the eleven total shows on this list. And on top of that he also competed at the three AEW shows from before All Out 2019 where I put the cut-off point. Quite simply put that Janela is the quintessential midcard act for AEW, consistently over and consistently in attendance, that's all you need in that regard.
Janela's first match on our list was a triple threat of three wrestlers with a similar style, and that style is doing whatever violent bullshit works. He didn't pick up the win but in the long run he's the only third of this match not accused of sexual assault so I guess that's a win. He followed up this with a loss to Shawn Spears who AEW still thought they could push as a top heel. He would go on to miss his first AEW PPV in the form of Revolution 2020.
Janela would take part in the Casino ladder match that was won by Brian Cage, and he quickly moved from one monster to another as Fyter Fest would see him facing Lance Archer in another losing effort for Janela. He would net his first big win at All Out 2020 with him picking up the win over Serpentico on the pre-show. He wrapped it up with the Diamond Battle Royal in December, adding another loss to his list.
I know I've mentioned updating with the future PPV's, but now I'm wondering whether I should add some of the prior ones too. But again that's a thing to maybe do in the future (though looking at the Takeover's I'd add I'd really worry for AEW's chances with those additions). As for Janela I think this is probably his spot in AEW, he's entertaining enough but I don't know that he's destined to move beyond the midcard, maybe he gets the TNT title one day but that isn't in the near future.
#70
AEW #39
Evil Uno
All Out 2019: with Stu Grayson beat Best Friends 3 Stars
Revolution 2020: with Stu Grayson beat SoCal Uncensored 3 Stars
All Out 2020: with The Dark Order lost to Matt Cardona, Scorpio Sky and the Natural Nightmares 3 stars
Total Stars: 9 Stars
Win-Loss: 2-1
Final Score: 3.075 Stars
And I thought Dark Order recruited people with bad win-losses. I'm curious to see if Evil Uno ends up being the one to break the bad streak or if he's just an exception to the rule. First things first, someone need to update his Wikipedia page because they have yet to even get to All Out 19. Honestly I'd say he's had a good run as a second in command for the Dark Order, I'm not sure that he is, but honestly with the length of time he's been in and the fact that he is the most prominent does make me think he at least should be.
Uno's run started well with an attack on the Best Friends and this would lead to their match at All Out with a bye in the first round of the tag title tournament on the line. They'd fall short in the tag tournament losing to SoCal Uncensored, and soon after SoCal lost their tag titles they began to feud by trying to get Christopher Daniels to betray his friends and join them, they'd win the PPV but Daniels forgot the part where he betrays his friends.
The loss to a bunch of random superstars at All Out really befuddled me and continues to do so to this day. It wasn't enough of a loss to derail them but I just don't understand who benefited from the win, someone needs to explain it to me because I just don't understand it.
I always see a lot of praise for various members of The Dark Order saying they are set for big things but it's rare to see praise for Evil Uno who if you ask me has been the glue for the stable since day one, Brodie Lee made them relevant but he started them going and has been pretty entertaining since, he's a solid wrestler with that three star average, I think he's one of AEW more underrated talents.
#69
AEW #38
Colt Cabana
Double or Nothing 2020: Casino Ladder match 3.25 Stars
Fyter Fest Week 2: with Brodie Lee and Stu Grayson beat SoCal Uncensored 3 Stars
All Out 2020: with The Dark Order lost to Matt Cardona, Scorpio Sky and the Natural Nightmares 3 stars
Total Stars: 9.25 Stars
Win-Loss: 1-2
Final Score: 3.0833333 Stars
I've always regarded Colt as somewhat of a comical wrestler, so I hope he appreciates the 69 spot. Cabana joined AEW in 2020, before the world started to end, and kinda just hung out in the midcard for a while, having a loss in the "Definitely not Money in the Bank" Ladder Match at Double or Nothing. He'd go onto join the Dark Order after several losses and started to pick up wins, including being allowed to get the pinfall in the match against SoCal Uncensored at Fyter Fest.
Again, All Out 2020. I think looking back that is probably the worst of the handful of PPV's AEW's had, a lot of questionable stuff that night.
#68?
AEW #37
Brian Cage
Double or Nothing 2020: Casino Ladder match 3.25 Stars
Fight for the Fallen: lost to Jon Moxley 3 Stars
All Out 2020: Casino Battle Royal 3 Stars
Total Stars: 9.25 Stars
Win-Loss: 1-2
Final Score: 3.0833333 Stars
IMPORTANT:
ok, I've not seen the All Out battle royal, and my attempts to find it have only yielded people doing the match in WWE 2K. Cage and Cabana are tied and it has been broken on time. Across the three matches Cabana leads by 11:37, so I have assumed that Cage was in the battle royal for longer than that, however based on Casino battle royal rules, Cage entered at the ninth minute, leaving only 13:15 left before Lance Archer won, so my question is this, Did Cage last enough or should he be moved down a spot?
Team Taz represent. The Midcard I am of course referring to, my word after so much hype from people regarding him joining AEW and what's he got to show for it, the ECW version of the Million Dollar title. A big disappointment here, people were talking like he was some unstoppable destroyer and quite frankly he's been stopped more often than not, first by Jon Moxley, then by Lance Archer, then Darby Allin and most recently Sting. He is the embodiment of the 80s wrestler, he's picked up a bunch of wins over some lower card guys and we are supposed to take him serious as a threat, and the only reason people do is because they are slurping on the balls of AEW.
Based on everything I have seen, this is about right for Cage, I've not seen anything particularly standout from him, the only good thing he has is Taz, who in all reality could probably make a sack of potatoes seem like a credible threat.
#67
NXT #31
Mia Yim
Takeover Toronto II: lost to Shayna Baszler 2.5 Stars
Takeover In Your House: with Shotzi Blackheart and Tegan Nox beat Dakota Kai, Candice LeRae and Raquel Gonzalez 3 Stars
Great American Bash Week 1: lost to Tegan Nox vs Dakota Kai vs Candice LeRae 3.5 Stars
Great American Bash Week 2: lost to Candice LeRae 3.5 Stars
Total Stars: 12.5 Stars
Win-Loss: 1-3
Final Score: 3.1 Stars
Poor Mia, what has Retribution done to you. While she is far from the best woman on the roster, she definitely has proven herself capable enough to be a solid midcarder for the women's division. She's had a solid career to this point, mostly in TNA. Her NXT run was I'd say fairly standard, with the title shot coming early on in the run, providing a fairly average match for the women's title (and to clarify, the match was average for wrestling, as far as NXT women's championship matches, it was below average)
Yim would continue to be prominent in NXT, getting a spot in the first ever Women's WarGames but she would end up replaced due to storyline injury. She'd end up taking somewhat of a back seat for the coming few months until she would find herself in a feud with Candice LeRae, which ended up being a part of a six woman tag at In Your House that was added to fill out the card.
The feud with LeRae would continue on through the summer into Great American Bash, when both women were given a number one contenders match, with Yim able to get the elimination on her rival but would ultimately be unable to get the win. Yim and LeRae would go onto a street fight the following week, and after a top rope neck breaker LeRae would score the win over Yim sending her off to the main roster.
I think it's safe to say that everyone involved with the Retribution angle deserves better, except the writers behind it. Several good wrestlers all locked into some ridiculous angle, it's genuinely disheartening to watch it just meander on without purpose. I wish there was any hope for the talented men and women on Raw but honestly it's all doom over there.
#66
NXT #30
Santos Escobar
Great American Bash Week 2: with Legado Del Fantasma beat Breezango and Drake Maverick 2.75 Stars
Takeover 31: beat Isaiah Swerve Scott 4 Stars
Halloween Havoc: beat Jake Atlas 2.5 Stars
Total Stars: 9.25 Stars
Win-Loss: 3-0
Final Score: 3.2333333 Stars
Considering how prominent he's been throughout his reign, I'm genuinely surprised to see Santos this low. And considering how well the championship reign has been going it's surprising to see only one match of substance actually make the column.
Santos made his debut under the mask as his usual El Hijo de Fantasma and would go on to win the Cruiserweight Championship in a very short amount of time. He would continue to feud with Drake Maverick for a couple weeks including the six man tag match at Great American Bash, but soon would begin his first real feud with former Lucha Underground rival Isaiah Swerve Scott, the two would trade wins and lead to the two having the first cruiserweight championship match on Takeover.
After this he'd enter into a couple of feuds, against Jake Atlas which quickly wrapped up by the end of October with their Halloween Havoc match, and from there into a brief feud with Lucha House Party and Karrion Kross (not all at once), and then it was now and Jordan Devlin came back. I think realistically if we included the Kross match and his match with Gran Metalik, he'd be much higher on the list, top 50 maybe. But with the cruiserweight title in NXT's grasp, he's got plenty of time to climb the rankings.
---
Ok, we are getting to that point in the series where I feel like the columns start to get too long, I'd love to hear you guys thoughts on that because trying to decide what to do with it has always been difficult for me. We are quickly closing in on the top fifty talents of NXT/AEW; I wonder who else is not going to make the cut. Well you'll have to tune in next time to find out because for now it is time I bid you all a fond farewell. As always I hope you have enjoyed today's column and I will see you next time.